In 1992, Mr and Mrs Wallace Jackson revisited the sites of Wendover and Vera-Joan, plots once owned by their respective parents.

In fact, this is where they had become acquainted in the 1930s. Joan Firman moved to Vera-Joan with her mother, father and sister during the 1940s, having been bombed out of the family home in Clapton, London. Wallace Jackson joined the RAF in 1938 and spent four years in North Africa and Italy before returning to Britain and marrying Joan in 1947. Many years and three house moves later, they came to see what had become of the plots.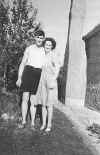 Staying at Vera-Joan, shortly after their wedding in 1947

Inspecting what was once a well-trimmed hawthorn hedge in front of Wendover

Mrs Jackson stands in front of the former Vera-Joan.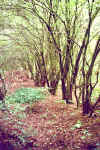 Inside the former garden of Wendover, the Anderson shelter survives alongside grossly overgrown hedges.

Mr and Mrs Jackson visit the seat they donated to The Haven museum garden in memory of their parents.