A map of 1876 supplied by the Ordnance Survey Get-a-Map online service shows that the land to become the future Dunton Plotlands was farmland, consisting of large fields, separated by tracks between farms and houses. The Lower Dunton Road bounds the western limit of the area, as today and Berry Lane can be seen to the east, above Great Berry Farm. The pond at the top of Margaret Avenue is marked, and along some of the field boundaries is the suggestion of large trees. A later lost, demolished house - Whitehall - is marked towards the south of the area.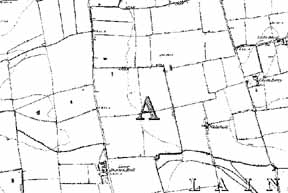 click on map to see larger view
Image produced from the Ordnance Survey Get-a-map service. Image reproduced with kind permission of Ordnance Survey and Ordnance Survey of Northern Ireland .
The broad muddy farm track at the top of Forest Glade, bordered on both sides by large elms, is shown as an extension of Berry Lane, extending towards Great Berry Farm. Forest Glade itself was extended towards the Plotlands estate by simply fencing off a strip at the north end of two fields. This accounts for the fact that the south-facing side of the track had no trees, whereas elms partly bordered the north side.